✨ Limited time: Free delivery in Canada / USA from 90 $ of purchases / Delivery at the fixed price of 20 € in Europe from 100 € of purchases ✨
* Kaylabé is not responsible for customs fees that may be applied in foreign countries.

00

Days

00

Hours

00

Minutes

00

seconds
We're sorry you missed this sale. We are a small family owned business so we are always happy when we can offer discounts like this. If you would like to be notified of our next sale, sign up to our mailing list and follow us on the networks to be notified of all upcoming discounts and sales.

"Ayurvedic serum is my favorite! With this range, in a few months, I saw an evolution in my alopecia my frizzy hair is sublime."
-
Mariama B
★ ★ ★ ★ ★
"I have been using the tea, the serum, the green sweetness and the mask for 6 months now. I love ! I see the difference and those around me compliment me on the visible health of my hair. Thank you Kaylabé, thanks to you I can now say that I love my hair! "
—Aminata D.
Which one is best for you and how do you use these wonders?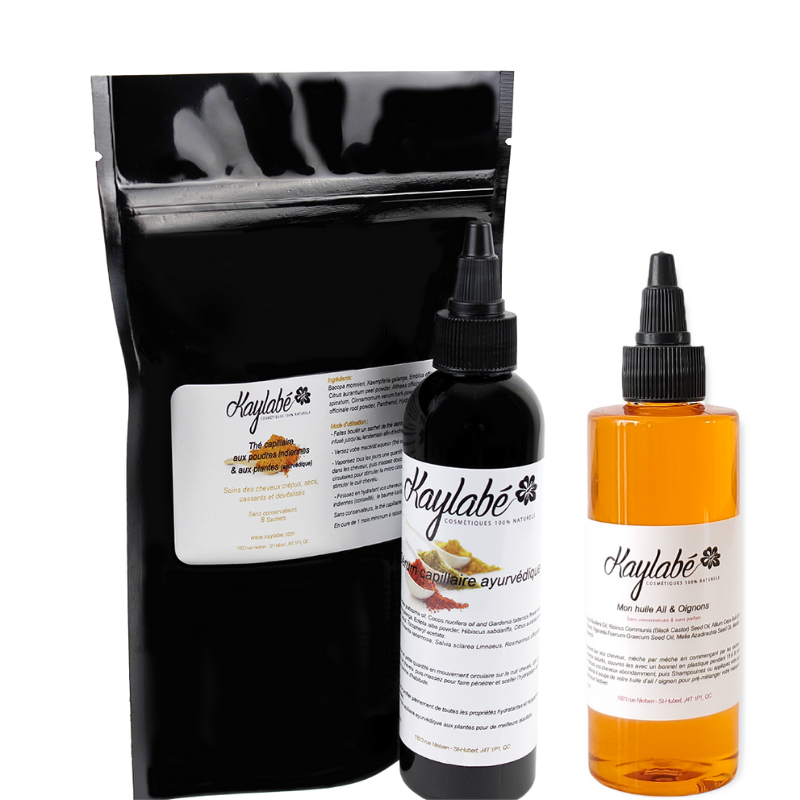 Daily:
Moisten your hair daily with

hair tea

, because only water hydrates.
Apply a few drops of

ayurvedic serum

on your scalp followed by a light massage.
You can alternate Ayurvedic serum with garlic oil & onions or reserve it for your weekend treatments.
Hair honey

is a wonderful humectant known to hydrate and repair the driest hair.
You can enrich your tea with a little hair honey or use it in your weekend treatment.
Hot oil treatment

apply in an oil bath or to enrich your hair masks wonderfully.
FREQUENTLY PURCHASED PRODUCTS TOGETHER
To experience the magic of Kaylabé products, use the days, then sit back and enjoy the results.



Take the opportunity to try them all with the 25% discount to take advantage of our best savings by ordering these favorite products together.